Back to basics - thinning techniques
Harriet Palmer, New Zealand Tree Grower November 2008.
The latest Wellington branch field day – Thinning: back to basics – was organised and hosted by Dave Gratton at his Upper Hutt property. As ever when Dave is our host, safety and good working practices were a key component of the day. Dave has been the NZFFA's national Health and Safety representative for many years, a role he is about to retire from.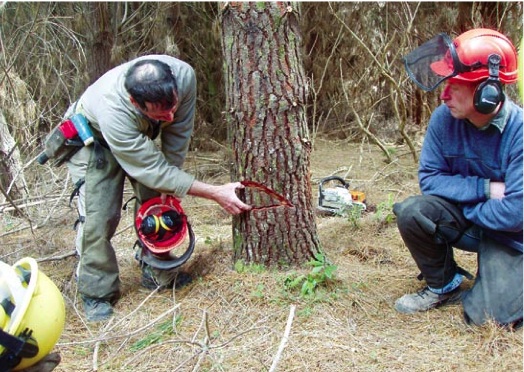 Felling techniques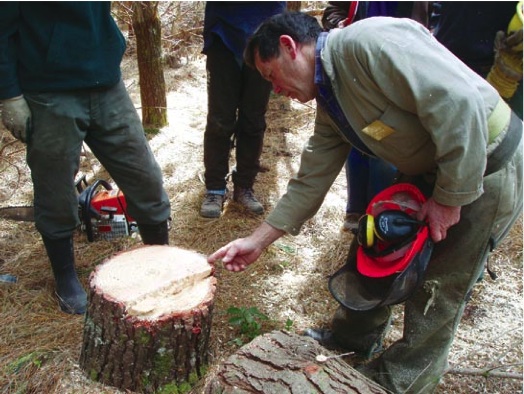 After a discussion about tools and safety, we headed out into the trees. We talked about the reasons for thinning. Then it was time for a demonstration of some felling techniques, including safe removal of lower branches, and directional felling of both small and larger trees. The distinction is that smaller trees generally can be felled with one cut, without taking out a scarf or wedge-shaped piece.
We discussed the importance of assessing the tree lean, tree size and crown weight, and prevailing wind direction before starting work. Dave felled several trees as a demonstration, and then branch members had a chance to put their skills to the test.
Needless to say, the best way to learn how to thin well, which includes tree selection and accurate directional felling, is to get out there and get lots of practice, preferably under the supervision of an expert like Dave Gratton.
Later on in the day we looked at an area which had been damaged by the recent wind storms in the region, and talked about options and techniques for safe salvage of wind-thrown trees. A highlight of the day was a prize draw for some high-vis fleeces and T-shirts kindly donated by ACC.
Read the literature
The field day was extremely valuable for everyone who attended, and Dave had also prepared a folder for people to take away. There is plenty of good literature about safe chainsaw use, chainsaw techniques, and good working practices. Examples include ACC Forest Safety Guidance leaflets –
No. 2: Forest worker health and well-being
No. 3: Avoiding injuries when pruning and thinning to waste
The whole leaflet series is here
In addition there are the OSH/Dept of Labour booklets –
Tools for thinning
A chainsaw, maintained in good working order with a correctly sharpened and fitted chain, air filter clean, chain brake working, stop lever working and spark arrester in place.
A felling wedge and hammer a felling lever and not forgetting a full fuel can and oil can filled.
Personal safety equipment.
Safety chaps or safety trousers, a helmet with visor or safety glasses, ear muffs, steel toe-capped boots, a first aid kit and a cell phone.
OSH also advocate the use of hi-vis clothing while working in the forest. Anyone working in the forest should also ensure they keep well hydrated. Drink plenty of water throughout the day, and take regular rests, especially if you are a weekend warrior, and not used to long stints of manual labour.
Many Wellington Branch members are big fans of Levin Sawmakers who supply a full range of competitively priced quality tools and forestry safety gear.
Key safety messages
Check that there are no other people in the area where you are working. In Dave's case, this includes the use of hazard warning tape across roads within his forest because the public walk through his property from time to time.
Make sure other fellers are working at least two tree lengths away.
Always have a safe escape route planned and cleared to the sides and rear of where you are felling.
Check overhead before you start on hung-up branches.
Avoid using a chainsaw above shoulder height, and never use one directly in front of your face or body in case it kicks back.
The ACC website also has:
Preventing Injuries on the farm
Industry specific safety: Forestry
Industry specific safety: Agriculture