Landcare Trust Award for Innovation in Sustainable Farm Forestry 2018 - Ken and Robyn Ferguson
New Zealand Tree Grower May 2018.
Ken and Robyn's picturesque farm Waipuna is nestled alongside the Grey River on the West Coast and consists of 1,000 hectares of flat pasture and 850 hectares of indigenous forest. One of the West Coast's first farms dating back to 1862, it has had a long history of farming, mining and logging in various guises. Today under Ken and Robyn's stewardship it is being farmed with an ethos of innovation and sustainability and a focus on doing things well.
The farm
Cattle, sheep and deer are currently being managed with all stock being finished on the farm and all replacement stock being bred on it. The farm is stocked with 1,300 ewes and 500 hoggets, 300 Angus beef cows and 150 Friesian bull calves, 1,200 hinds and 400 velveting stags. Typically, the ewes would lamb at over 180 per cent and the hoggets at 125 per cent. The target weight for cattle sold is 300 kg on the hook and the velveting stags are averaging nine kilograms of velvet per animal.
The forest
Since 2002 the forested area has been managed under a Sustainable Forest Management Plan administered by the Ministry for Primary Industries and overseen by Jan Dirks who has considerable experience in beech management and sustainable management plans. The forest had been repeatedly logged for selected species until the mid-1980s. Most of harvesting activity occurred before 1950 with the predominant extraction method being ground-hauling to bush tram, although some tractor extraction also occurred. The targeted species were rimu, kahikatea and red beech.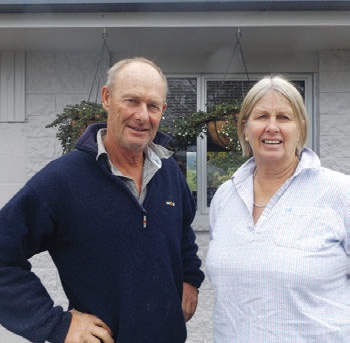 In general, regeneration of beech and podocarp species is well established today in areas of historical logging. Today forest composition is generally a red and silver beech mixture, with occasional kahikatea and rimu on younger alluvial terraces and floodplains with hard beech becoming more prevalent on higher, older terraces and ridge country.
Conservation
Ken and Robyn have a strong focus on conservation and with the help of a local Biodiversity Fund have fenced off an additional 150 hectares of regenerating forest both alongside the river and on the farm. In addition, Ken is a strong advocate for kanuka, a species which was once very common on Waipuna, but now of limited occurrence. It has been highly sought after for firewood in the past and with current farming practice there is limited opportunity for natural regeneration, so a re- establishment programme is under way.
There are several old gold mining sites on Waipuna and these are slowly being rehabilitated or planted out as wetlands. Old gold tailings are being levelled and sowed in pasture.
Advocacy
Ken is a passionate advocate for farm forestry and sustainable beech forest management and valuing the timber that comes from such management. As Ken says,'New Zealand beech is a high value timber, as good as any imported beech, but it's just not recognised here in New Zealand'. Ken has the view that if the wood is not valued, then in should stay in the forest until it is valued.
Waipuna hosts numerous farm visits each year from local and international visitors and most would leave with a different view of West Coast farming from the one they had when they arrived. Waipuna has hosted attendees at both West Coast farm forestry conferences with the 1994 conference particularly memorable because of the rain and large barbeque dinner provided.