What is wrong with wildings?
Nick Ledgard, New Zealand Tree Grower May 2011.
What is wrong with wilding trees? This would be the most frequent question I am asked. The people looking for an answer are increasingly aware that many forests which have been planted or are wildings can be registered with the Emissions Trading Scheme and gain carbon credits which can be sold for handsome sums.
You may have seen, and been attracted by the Douglas fir wildings back-dropping Queenstown, the larch framing superb views of Mt Cook on the road to the Hermitage, and surrounding Naseby township the mainly Corsican pine, larch and Douglas fir. You may also have seen tourists buying place mats and calendars of high country scenes which often feature wilding trees.
Despite such 'what is wrong' questions, I think most people are familiar with why there is concern about wilding spread. Wildings are often found growing in places where they were not planted, and where they can disrupt visual landscapes, submerge grazing and conservation values, and add costs to changing land uses. Even though I am a keen tree person, and have a 50-year joint venture right to manage a 380 hectare block of wilding trees near Lake Coleridge, I do not endorse wilding spread.
You could equate its worth to that of a wild deer herd compared to farmed deer behind fences. The conifer species most often seen spreading is contorta or lodgepole pine Pinus contorta. It occupies around 60 to 70 per cent of the national area affected by wilding trees. This species may be valuable in its native North American home range, but it has yet to attract a ready market in New Zealand. So when considering the commercial worth of wildings for timber and fibre, please be aware that in most cases they are the wrong species, on the wrong site, widely scattered, of poor form and often far from markets.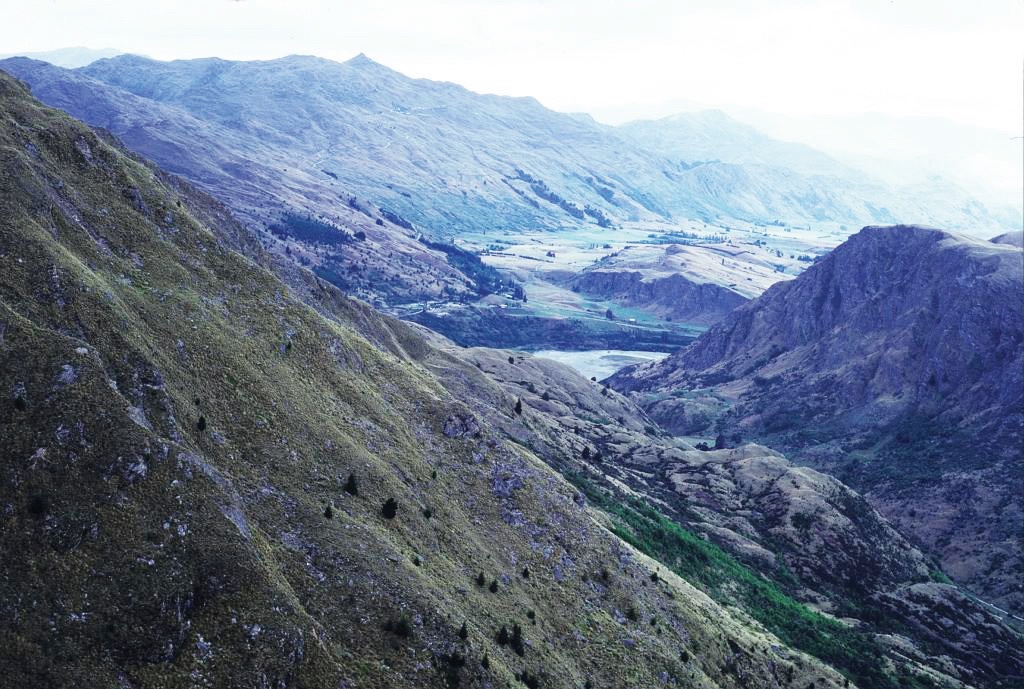 Carbon credits
Today, when considering the commercial worth of wildings, the immediate thought of many is about carbon storage and gaining credits via the ETS. Yes, this is possible, and quite a few wilding forests have been registered with the ETS, with some receiving a cheque for the carbon stored in them.
One property is using this money to control spread outside the registered area. I have no problems with this at all. However, I do object to those who are cashing in on wildings and have little concern about being a seed source for subsequent spread beyond their boundaries.
Most high country land owners wanting to establish a new commercial plantation would need a resource consent which would have wilding control conditions attached. Similarly, the same conditions should apply to land where the owner is making a commercial profit from a wilding forest.
Conifers grow well
Why is wilding spread such an issue in the eastern hills and high country of the South Island? It is mainly because we are in a great environment for growing woody species. Almost 30 years ago, Kevin O'Connor, the then Professor of Range Management at Lincoln College wrote 'The success of woody revegetation cultures forces land users to choose between forests and improved pasture.... making that choice will be the principal landscape planning issue in the tussock grasslands and mountainland for the next 20 years.' In other words, most land which is not improved for grazing will inevitably revert to woody species. And of those, the exotic conifers grow particularly well.
Back in the early 1980s, I undertook a survey of introduced trees starting in Molesworth and ending up in Queenstown. We found some stands of conifers, such as Douglas fir, which were world records in terms of volume for their age. Such species not only grow well, they also reproduce well – often both earlier and more profusely than they do in their home country. This leads to high 'rains' of seed, which can be readily blown into land which is both lightly vegetated and lightly grazed. Therefore we have the wilding spread issue, where trees are turning up on land where they are not wanted.
Overstated risk
The risk of wilding spread is an issue which we have to address, but it can be overstated. I have seen maps of the high country which are mainly coloured red, the red indicating land that is at risk to wilding spread, insinuating that it will all go under a dark green tide if we do not watch out.
Let us be honest, the red colour could just as easily indicate susceptibility to Hieracium and rabbits, or even wild sheep. More importantly, even though that land is susceptible to wilding invasion, there is no such thing as immaculate conception for trees, and it will not be invaded unless there is a seed source. Over the vast majority of the high country, there are no seed sources of spread-susceptible species.
This brings me to another misconception which is that all pines spread. This is akin to saying that all sheep are Perendales and therefore not easy to contain within your average fence. In reality, the propensity to spread varies significantly between species, and virtually nobody today is planting the most spread-prone species, such as contorta pine, Scots pine, Corsican pine and larch.
These are the species which feature in well-known spread sites such as Molesworth, the Amuri Range, Craigieburn, around Lake Pukaki and at Mid Dome. Even these species vary in their ability to spread depending on their location. For example, Corsican pine, the most common spreading species around Hanmer, is hardly producing a cone a little further north at Tarndale on Molesworth station, due to the altitude of around 900 metres. In addition, spread will not occur where there is a good, closed canopy vegetation cover or where there is improved pasture and grazing. On the Canterbury plains, there are shelterbelts containing every species of spread-prone conifer, but no wildings are seen due to the intensity of land use.
Past inaction
The above words about misconceptions do not suggest that we can be casual about the risk of wilding spread. Indeed not, as it is past inaction which has led to the currently well- known large areas of unwanted spread, where it could be said that we are trying to close the stable door after the horse has bolted.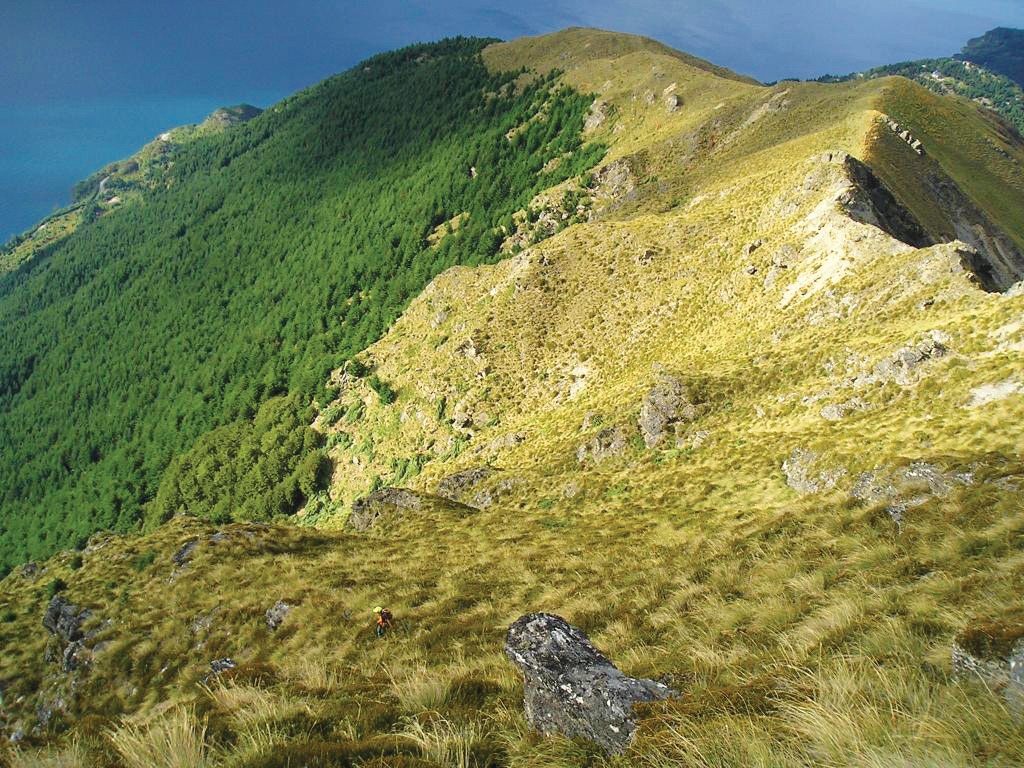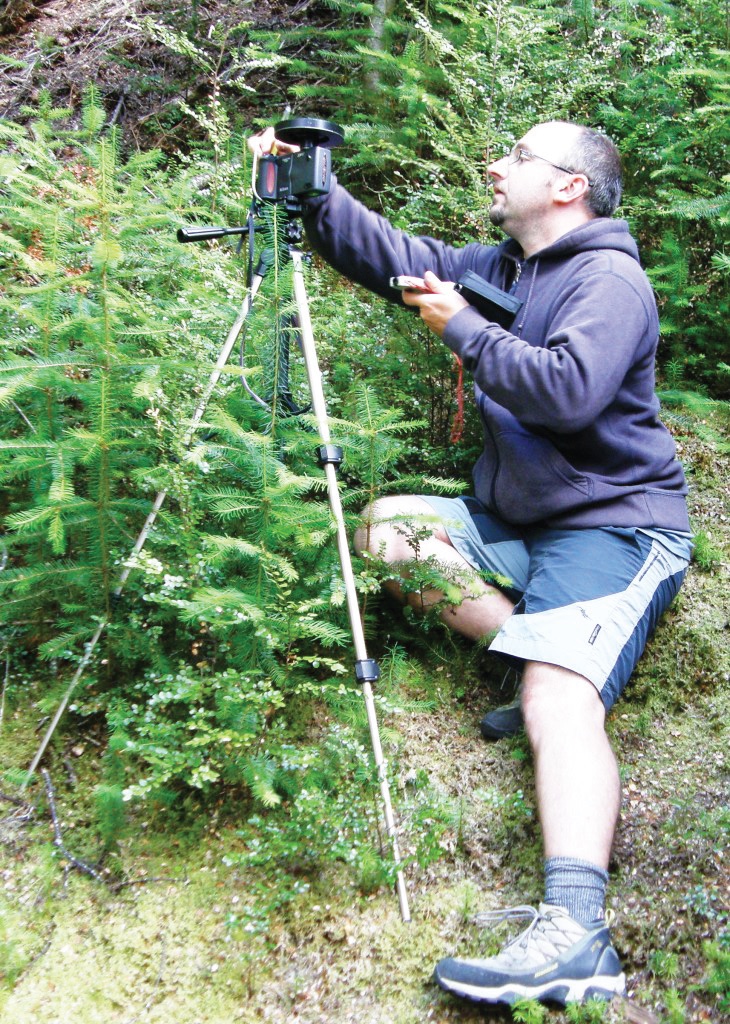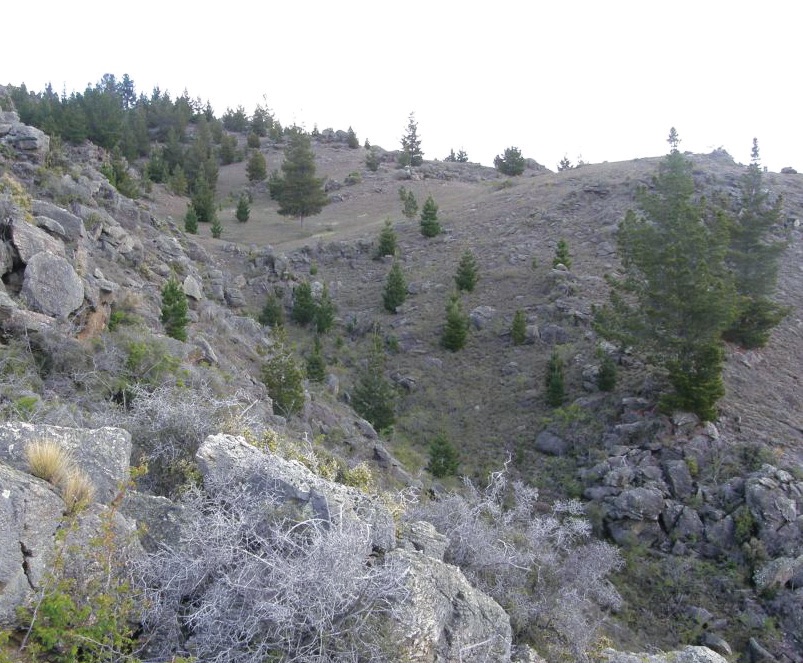 Probably the best example in Otago is around Queenstown, where conifers are an integral part of the area's iconic scenery. Nobody would like to see all the trees removed, but on the other hand there are many sites that most people would rather see remaining without trees. The slopes opposite the town over the lake beneath Cecil and Walter Peaks are one such example. Their subtle, glacially carved and pastel-coloured contours, often highlighted by late afternoon sun, would be rapidly submerged by a cover of dark green conifers.
I wonder how many people realise the work that has gone into maintaining that treeless vista. Although they do not arrive frequently, seeds of Corsican and Scots pine are being blown over the lake, with the species mix indicating an origin in the Closeburn area. If the resulting scattered outlier trees were not removed before the age of serious cone production, then an eventual forest cover would be inevitable.
Similarly, above the town, a tree line is being maintained below Ben Lomond which contours around at the natural limit of our native mountain beech. Douglas fir wildings can grow well above this level, so if it were not for such management, the slopes would be tree covered to the ridgeline, which would lose its attractive mixtures of tussock, scree and bare rock.
Further down the slope, the Douglas fir is challenging the remnant pockets of mountain beech forest. Although, it will not establish under an intact beech canopy, the fir will compete readily with beech regeneration once a gap appears. Recent studies have shown that in these low light conditions, Douglas fir is consistently faster growing than beech.
Fortunately, Queenstown is awake to the threat of wilding spread. A wilding control strategy has been in place for almost 10 years, and in 2009 a Wakatipu Wilding Control Group was formed to promote the strategy's implementation. The group has strong support from not just the Queenstown Lakes District Council and the Department of Conservation, but also from the local community. Such strength is important, because just as introduced conifers will always be part of the Queenstown landscape, so also will be the need to prevent them from spreading to areas where they are not wanted.
Who wins the war?
Are we winning this war with wildings? This is another frequently asked question, often posed by people who have been aware of wildings at a certain site for many years, and have observed them steadily becoming taller and more dense. This is true, but what they may not have observed is the much larger surrounding areas where scattered trees have been removed.
Once wildings are removed, they cannot be seen, and anyone unfamiliar with that land would be unaware that there had ever been a potential problem in the first place. That is the case over large areas of the South Island – the slopes opposite Queenstown and further east on The Remarkables are good examples. It is fortunate that, unlike some other weeds such as gorse and broom, wildings can be quite readily eradicated. They are very predictable, in that we know the direction of spread by wind, the sites where they can and cannot establish, and the age at which they will produce seed.
They are also very obvious well before coning age with plenty of time to remove them, and the seed bank in the soil does not last more than a few years. It is for these reasons that the Department of Conservation places wilding control in the eastern South Island as one of the most cost-effective uses for their conservation dollar. As a result there are many areas where removal has been successful and reinvasion will not be frequent. Good examples around Otago are the Kakanui mountains, and the Hawkdun, St Bathans and Lammerlaw- Lammermoor Ranges. In these cases we are certainly winning.
Wise use of trees
I run a lecture course for the School of Forestry at Canterbury university, with the title 'Trees in the New Zealand landscape'. It acknowledges all the prospects and problems associated with trees, under the umbrella motto of 'the wise use of the right tree in the right place'. Today, we know enough about trees and wilding spread to be making the right informed decisions, and therefore new wilding spread need not be a major issue in the future.
However, just as the occasional sheep will always get through a fence on to the neighbour's place, there will be the odd wilding which will crop up where it is not wanted. These must be removed as soon as possible, certainly before they mature to an age where they can produce cones and seed. Today this is becoming par for the course, whereas so often in the past, outlier wilding trees were allowed to persist and cone. A few minutes of removal time for a single tree had become many hours or days of multi-tree control. In wilding control, the catch phrase should always be 'a stitch in time saves nine'.
Introduced trees will always be with us, and with them comes the risk of unwanted wilding spread. Fortunately, we are now well aware of this risk, and we must remain so – especially in areas such as Otago, where the landscape is dominated by large expanses of low stature, lightly vegetated and lightly grazed land.