The Landcare Trust Award for Innovation in Sustainable Farm Forestry 2011 - Ingleby Coxe
Angus Gordon, New Zealand Tree Grower May 2011.
In 1988 an English woman who had lived in Africa for many years came to stay with friends and walk some of the magnificent walkways that New Zealand has to offer. She fell in love with the walkways and the countryside and by early 1990 she had returned to New Zealand, purchased a 63 hectare cattle farm at Waiotira and moved in. This undertaking has to be seen as another stage of what has been a very interesting and diverse life.
Ingleby was born in England and in the 1960s moved to Northern Rhodesia, now Zambia, with her husband and two small children. Ingleby's husband was a scientist working for the United Nations FAO, and while he was away in town during the week, Ingleby ran their 166 hectare cropping farm with the help of African labourers.
It was during this part of her life that Ingleby's talent for applying scientific method, combined with thinking outside the square, was honed. In one particular year she and her staff planted their maize seeds at uniform spacing and fertilised them before the rains came, which was not the accepted practice at the time in that part of Africa. In doing so they produced one per cent (300,000 lbs) of Zambia's saleable maize crop, from just 160 hectares.
Tidy and innovative
This same questioning of the accepted norm, combined with the available knowledge of the environment and plant species, has led Ingleby to coax some very difficult Northland clay soils into becoming a very tidy and innovative farm and forest operation. Ingleby's farm is easy-rolling in contour, with Waiotira clay loam soils.The average rainfall is 1350 mm with peak rainfall between May and July. Frosts occur on the coldest days in winter, almost enough to slow the banana palms spring flush down.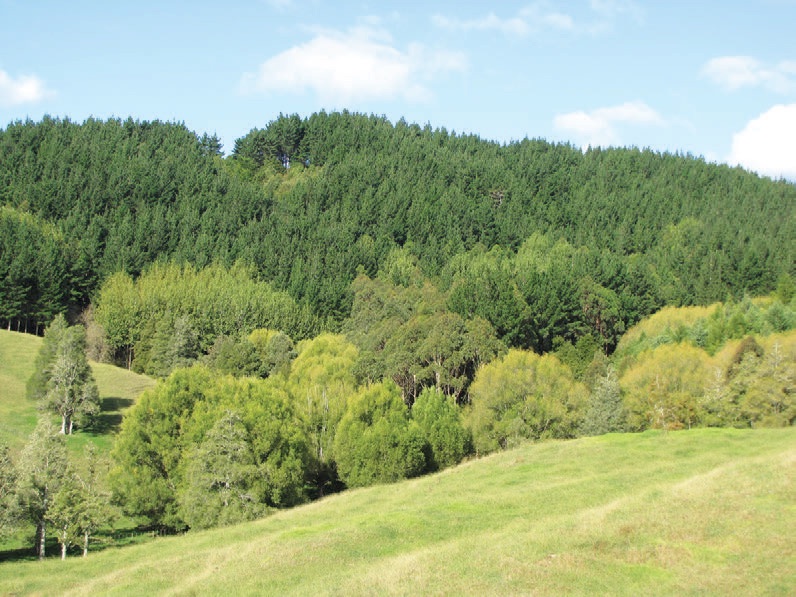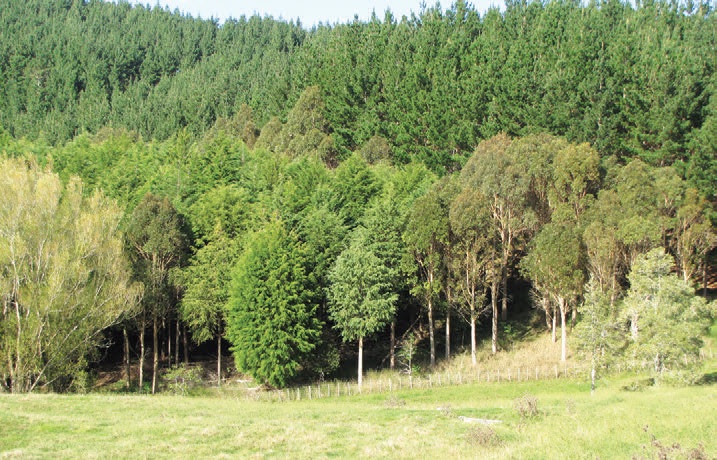 Those of you that have been members of the NZFFA for more than 10 years will recall the articles that were published in the Tree Grower in 1999 and 2001. These articles specifically dealt with the toppling of pines and cypresses in wet clay soils atWaiotira. The studies that Ingleby undertook on her own farm, and those of others, in 2005 and 2006, were into the factors that predisposed her trees to topple in that environment. This work was part of her Master of Science study − Toppling of radiata pine.
Mix of species
Ten years on the early trial blocks are still evident, with signage still distributed about her farm, but the trees have now grown into middle-aged forest stands, with the vast majority being superb trees. There is a great mix of species including radiata pine, various eucalypts, cypresses, blackwoods, paulownias, poplars and many more. Natives predominate in the retired areas especially those species that provide feed for native birds
Another of Ingleby's traits is the quick adoption of other people's ideas and being prepared to change to adapt to the reality of her work. After doing the first prune on her radiata pines she realised that she was not up to completing the rest by herself, so she employed others to do the job for her. This has allowed her to get her projects finished on time.
She has a large array of shelterbelts on her property, about 2.5 kilometres of them, most of which are the kawa poplar clone. All the shelterbelts are pruned to a minimum clear bole of four metres so that a clear sawlog can be extracted. Many of them are planted adjacent to the small water courses that dissect the property, enabling the fencing of streams from grazing.
Clean water
Fencing all the streams and springs and building dams to retain water at strategic points, has meant that the whole property has clean reticulated water available throughout the year, with gravity the energy source for the system. The dams are kept free of choking weeds by the use of Chinese grass carp as aquatic browsers. The only time an excavator is used is to construct the dams.
Keeping the cattle and aquatic weeds out of the water has meant that maintenance of the water supply is virtually eliminated. The provision of clean water is particularly important as cattle are the only livestock on the property, approximately 80 being wintered every year. The heifers arrive as calves and stay for one winter and then sold the following autumn so that heavy animals are not over-wintered on wet soils. Sometimes sheep from a neighbour's property are brought in to tidy up in the forest blocks to lessen the fire danger.
A real credit
Another of Ingleby's passions is the preservation of tree genetics, and to this end she is a collector and propagator of heritage fruit trees. She has her own propagation area where she grafts both scion wood and bud material on to her own rootstocks, and her catalogue is extensive.
Ingleby's farm at Waiotira is a wonderful example of what can be achieved by perseverance, open mindedness and innovation in what is an extremely challenging environment. She has achieved the transformation from a grass dominated and treeless farm to a mixed species farm forestry operation in 21 years. It is a real credit to her.