Harvesting mature macrocarpa – never judge a book by its cover
Allan Laurie, New Zealand Tree Grower February 2013.
This case study reviews a recent harvest project involving 17 mature macrocarpa trees harvested in south Canterbury. It is very much a story of being aware of what you are looking at.
The harvest resulted from an enquiry by farmer who had an approach from a buyer for a small block of trees on his property. My visit revealed a typical small clump of very mature trees planted to shelter a set of sheep yards. At a first glance I thought we were looking at a firewood proposition. Certainly nothing to get excited about at first appearance
Remarkable find
A walk into the block revealed something quite remarkable. It appeared the trees had been pruned at a reasonable age. As is normal, there was no record of any pruning having been done, but the general appearance suggested a good amount of clearwood should be able to be recovered from the trees.
There were no signs of large occlusion scars or nodal swelling in the pruned stems. While there was some butt fluting present, the overall quality of the pruned portion of the tree was excellent. Above that, quality was not so good, with trees mostly heavily branched.
After a quick measure and calculation on the bonnet of the truck, the suggested stumpage value was about $10,000. This was based on some resulting timber being suitable for a veneer slicing outlet.
An interesting discussion ensued with the farmer about the suggested value. He explained that the other offer was for $1,500, so not surprisingly he was a little sceptical of the higher value. I suggested I could send him a cheque for $8,000 the following day or guarantee him a minimum $8,000 plus GST. He readily accepted the latter.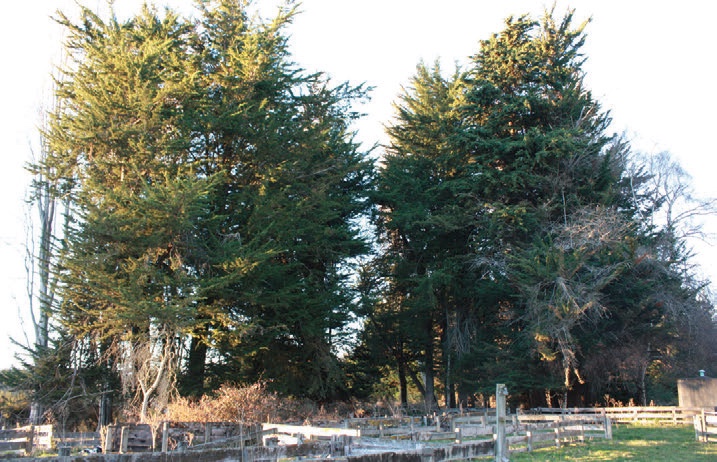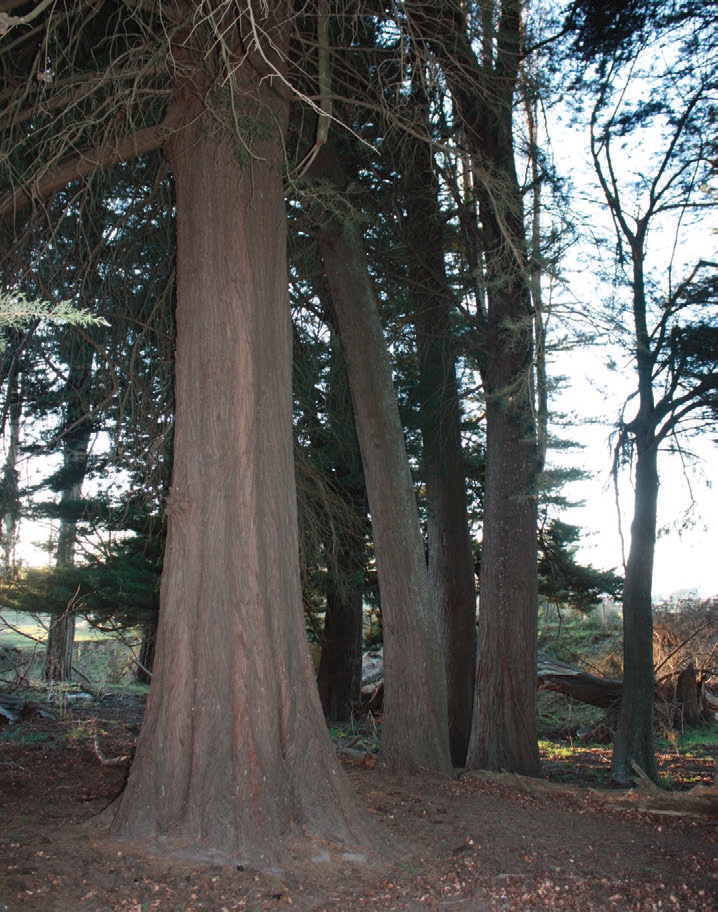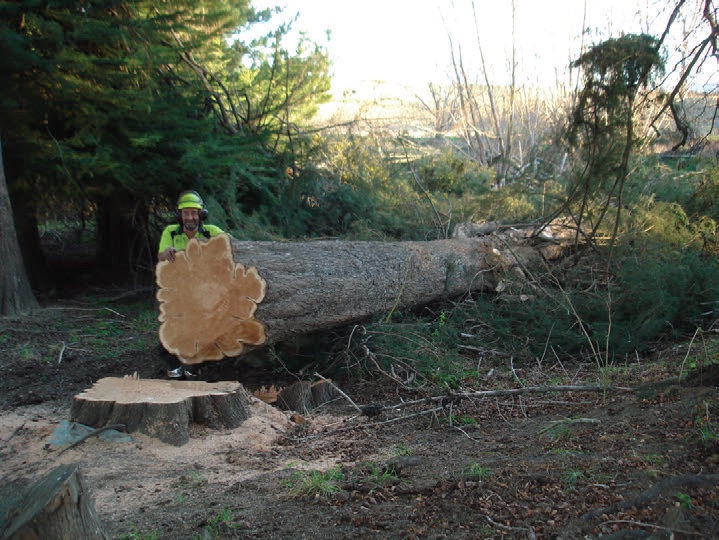 | | |
| --- | --- |
| Number of trees | 17 |
| Age via ring count | 91 years |
| Mean diameter at breast height | 85 cm |
| Mean height | 30.50 metres |
| Estimated total standing volume | 119 cubic metres |
| Mean pruned height | 6.5 metres |
A review of the trees statistics is given in the table.
Subsequent harvest also revealed a very mixed bag in terms of quality. Fluting was quite bad on some, but the outward appearance had confirmed that might be the case. Some trees had virtually no fluting. The defect core varied significantly from 12 cm to 36 cm.
| | |
| --- | --- |
| Total recovered volume | 103.41 tonnes |
| Average tonnes per tree | 6.08 tonnes |
| Volume of firewood logs | 24.65 tonnes |
| Volume of unpruned logs | 47.48 tonnes |
| Volume of pruned logs | 31.28 tonnes |
A review of the log volumes recovered is given in the table.
Subsequent milling revealed a large range in quality in the pruned stems from the very good to some major defects. The following four photographs illustrate the variability.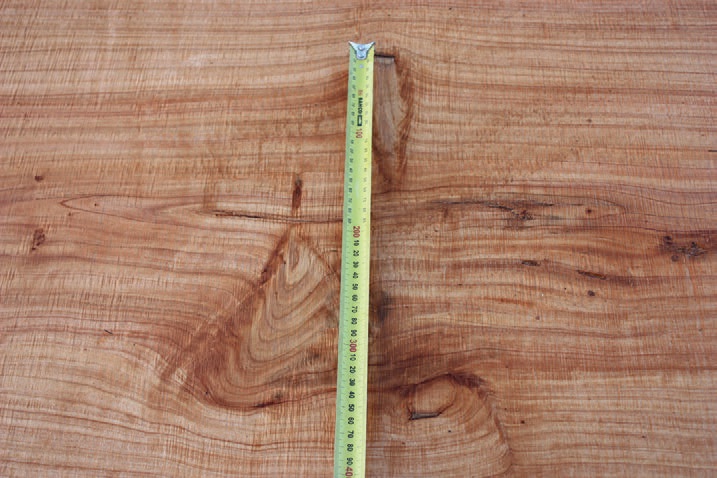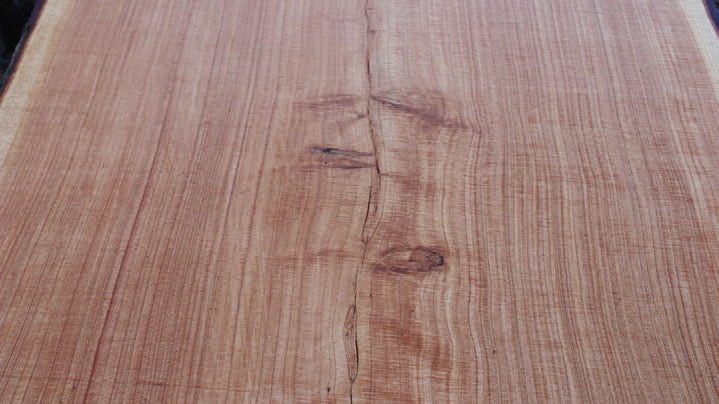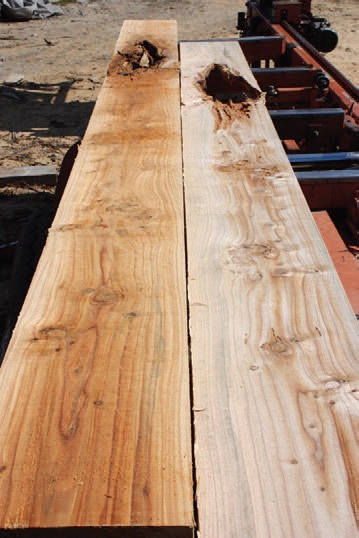 Small block limitations
The harvest of a small block of trees like this is, of course, much more expensive than a forest or large woodlot. In this case we had to deal with working around an overhead wire, a water line, a set of sheep yards and needing machines to remove trees off a small creek. As a result, the net return was much less than would apply in a larger block.
Firewood logs
$16.50
Unpruned sawlogs average
$54.80
Pruned sawlogs average
$244.80
Total stumpage
$10,434 plus GST
Average stumpage per tree
$614
Average stumpage per hectare based on
200 stems per hectare equivalent
$122,800
A review of the result to the farmer from this exercise is in the table, with the returns expressed in net stumpage per tonne.
What we can learn
Rotations of 91 years might stretch the imagination of the accountants. However, this case study has shown that our great grandchildren would potentially benefit greatly from extending the rotations of macrocarpa.
At a more pragmatic level we might consider the following −
Very high returns can be expected from well managed and mature stands of macrocarpa
The retention of records of pruning and the statistical data arising from that is critical for optimal returns
Achieving optimal returns depends on there being markets available which have a strategy focused on the high end usage
Maintaining a reasonable volume at value market in this segment in the future will be a major challenge if supply begins to exceed demand.
Whatever you decide from this case study, there is one important thing to remember. You and future family members will not be able to tell mates about it if you do not get out there and plant some trees.
Allan Laurie is the managing director of Laurie Forestry Ltd.