Castlepoint and trees
Peter Laing, New Zealand Tree Grower February 2010.
Castlepoint Station, like much of the Wairarapa Coast, was developed into grassland production predominantly out of scrub rather than bush. Peter Laing, manager of the Station for nearly 50 years, spent his working life clearing the station of trees and scrub. He felt that livestock congregating under trees was the way to spread disease and infection, which could well have been the case as there were so few trees left standing. However, Peter did see the important role for trees in protecting these fragile soils from erosion.
Most of the trees planted for erosion control were radiata pine. After many unsuccessful attempts at establishment in this windswept coastal environment, it was determined that it was crucial to plant the trees extremely deep with at least two thirds of the seedling tree underground. Also important was to leave a well on the surface to capture water. Planting earlier in the winter was better for survival. There were many small pockets of radiata pine and macrocarpa established by Peter, and on Otahome, now part of Catlepoint Station, by John Worley.
Around one of the pine plantings, Peter established a perimeter planting of Tasmanian blackwood. He felt that there should be some experimentation with other timber trees besides pine. Blackwood is a beautiful timber, which can be used to make good gun stocks as well as many other items. Unfortunately, these trees were never managed for timber production and it is unlikely that they would produce boards long enough to make anything bigger than gun stocks.
Pole planting
A programme of pole planting began when Trevor Smyth took over as manager in 1991, and a pole nursery was established in 1995. The goal for the Castlepoint Station having its own nursery was to produce poplar and willow poles that were already adapted to the harsh, windy, coastal climate. Currently, of the 1,500 to 2,000 poplar and willow poles planted early each winter, about 300 come from our nursery.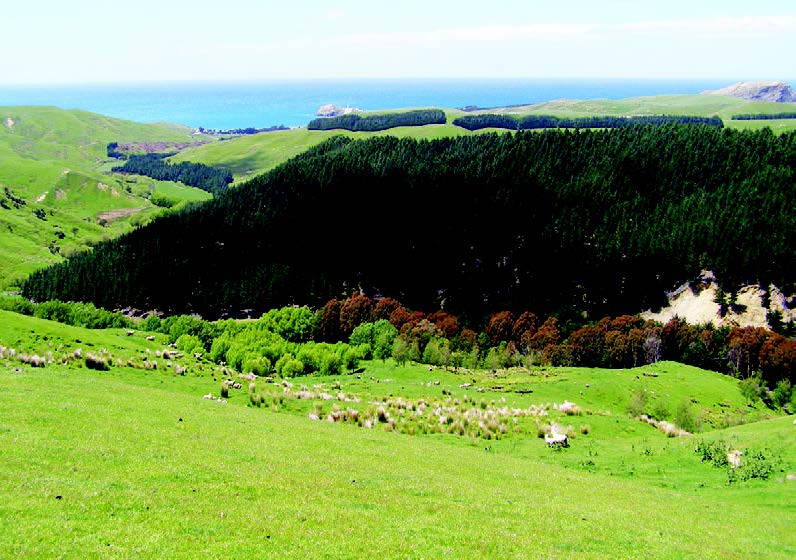 The current plans are to expand the pole nursery and look at the option of irrigating the nursery with the outflow of the Castlepoint oxidation ponds. This would dispose of effluent to land rather than water while at the same time providing some nutrient- rich irrigation. Form pruning the poplars began in 2004 with the aim of producing a marketable timber log at harvest. Poplar is a widely used timber species overseas.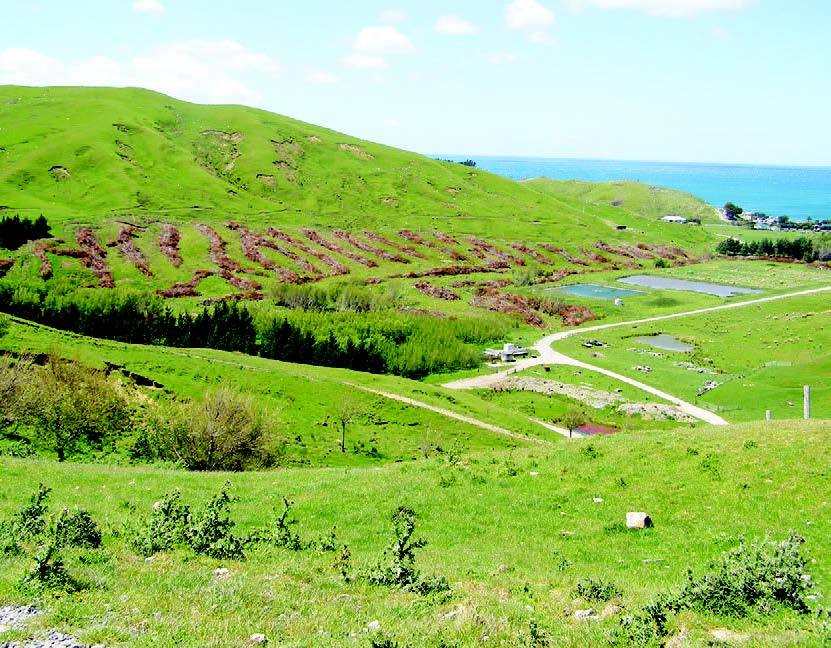 A full scale sustainability plan was developed by the Regional Council in 1999. In the initial draft of the plan there were large pastoral areas of the station earmarked for planting in radiata pine. The desired aim was soil stability and erosion control, so the option was taken to use poplar and willow poles in those areas, keeping the land in productive pasture.
Tree guidelines
In 2005, we established a set of guidelines for the role of trees. We were very aware that in our windy environment, compression resin pockets often developed in pines, and along the coast canker is an issue in macrocarpa. Both greatly reduce timber value. We therefore had to think hard if there was a role for production forestry and decided that trees on Castlepoint Station need to fall within one of three main categories −
Erosion control and land stability
Shade and shelter
Amenity values.
Within those three categories, they will be managed for production.
In 2006 there were strong indications from the government that land taken out of an existing forestry use and not re-established in forestry would incur a penalty of $12,000 a hectare. As there were many small pockets of forestry located near the township of Castlepoint, we decided that their ultimate land use would not be in forestry and we should harvest them and not risk the penalty. We harvested these in 2007 with some areas replanted with natives and other areas have been re-established in grass.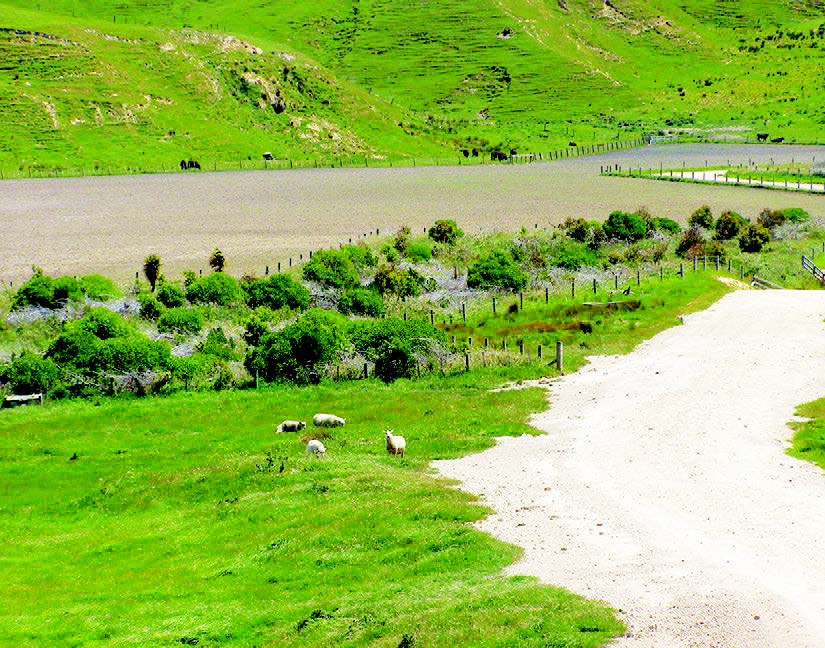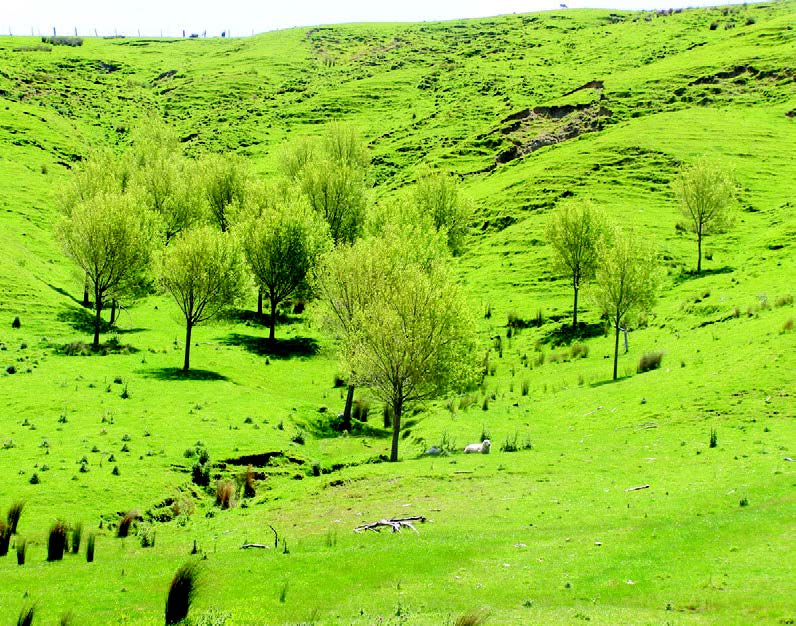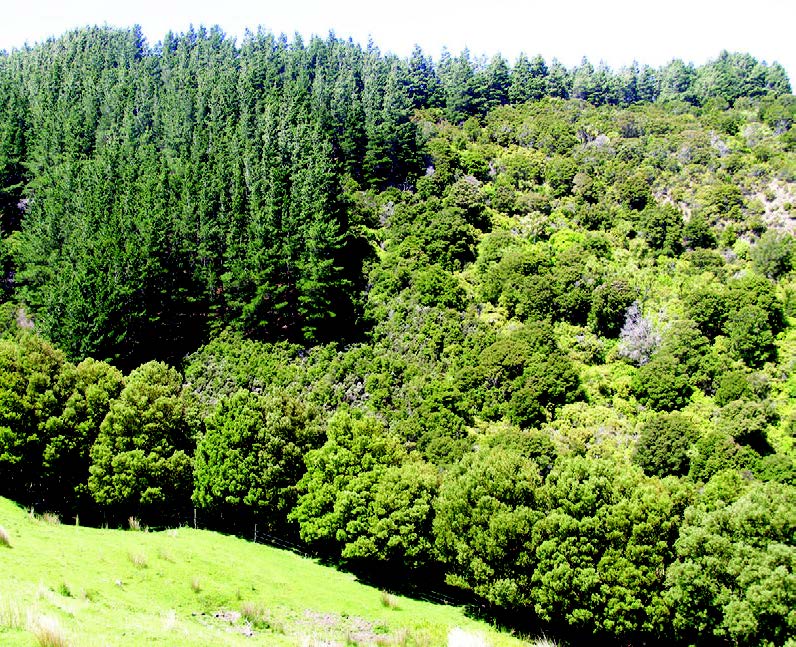 Mixed forestry
Having grown up in the eastern United States, where a mixed composition of deciduous hardwoods is the normal canopy, we prefer to see mixed forestry rather than a monoculture. We also find the rounded form of most natives to be a more pleasing line than the pointed outline of production pines. We have toyed with the idea of growing longer term production trees such as redwoods or some of the natives for timber.We have also done some experimental plantings with eucalypts and have considered running a trial with stringybarks.
For stock shelter on the coastal terraces, we have been establishing flax grown from seed harvested on the station. Just south of Castlepoint at Waimimi, Don Kinnell has a well established shelter planting regime.
A new role
Much further south at Glenburn, forestry has been used to very good effect to complement livestock management in a somewhat unusual method. Before we purchased Castlepoint Station, we had looked at Genburn. With its infected Tb status and rugged terrain, we felt it would be difficult to farm out of the Tb problem. When GMO bought Glenburn, they established large areas of forestry. When Taratahi took on the lease of the remaining area of Glenburn, they were able to farm their way to a clear Tb status in a few short years. It was an impressive result.
Forestry may have a new role to play on Castlepoint with the introduction of the Emissions Trading Scheme. We purchased the neighbouring property recently, which has 130 hectares of 13 year old pines. The plan is to sell some of the carbon credits to help subsidise the land purchase. There are areas on that property which are suitable for further pine planting, which may be a good option in the future if we need to offset our livestock emissions. Since Castlepoint's land area is mostly effective pasture, we would prefer not to have to take out productive pasture to plant trees.