Rotorua redwoods
Ian Nicholas, New Zealand Tree Grower February 2007.
Whakarewarewa Forest was first planted in 1899, when there were 170 tree species planted as one of the first large experimental forests to help guide the afforestation of New Zealand. The most famous remnant of these early plantings is the Redwood Grove. The stand, when planted in 1901, originally covered 32 hectares.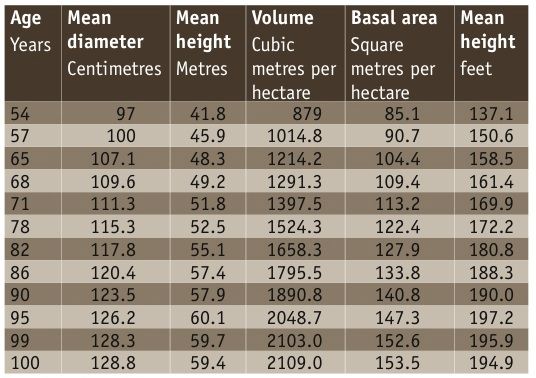 Apart from scattered trees surrounding the grove the area is now about six hectares. A feature of the stand are the many mature tree ferns and other native flora present throughout the grove.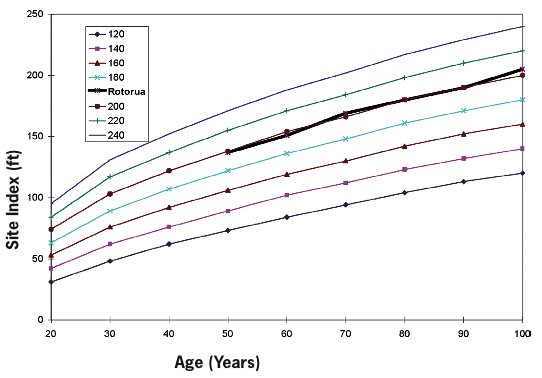 The grove has been formally dedicated as a memorial to men of the Forest Service who lost their lives in the World Wars.
Apart from being Rotorua's most popular walking and running track, the Redwood Grove has also been used for many activities ranging from wedding party photographs, dawn church services and orchestral music. It is also the resting place of the ashes of Bob Burstall the 'father' of notable trees in New Zealand.
The grove is recognised as a historic tree site by the Royal New Zealand Institute of Horticulture, and is protected under the Rotorua District Scheme. Since 1948, a small 0.4 hectare sample plot has been measured regularly, and the measurements are in the table below.
Comparison with growth in the United States
Height growth in forest stands is measured by site index – the expected height of trees at a given age. For redwoods in the United States, the site index is quoted as the expected height in feet at 100 years. Measurements from the Redwood Grove show that the stand has a site index of 200 feet. This is double the lowest site index assigned of 100, but less than the two best site indices used of 240 and 220 feet.