Doug and Sally Lane, Kaeo Northland
Doug & Sally Lane , New Zealand Tree Grower August 2005.
Doug and Sally Lane, from the Far North Branch, were presented with the Neil Barr Foundation Award for Young Farm Foresters at the Taupo conference in 2005.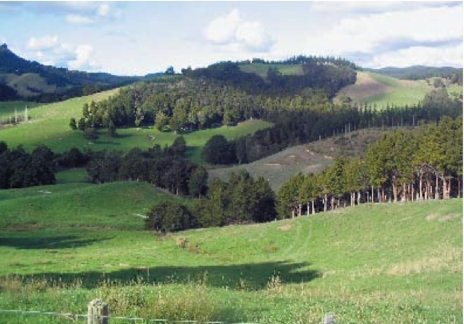 We purchased Paita from Doug's parents in 1989. The property is approximately 240 hectares, with 140 hectares in grass and the remainder in remnant regrowth native bush in gullies. Doug's father and grandfather both had more than a passing interest in conservation and tree planting. His grandfather had planted significant numbers of eucalypts in shelter lines in the 1920s, all of which have been harvested. But his father's love of trees that have autumn colours such as oaks and poplar provide an established feel to the shed and house areas.
Simple decision
We harvested a few radiata in the summer of 1990/91 that my father had planted, and were encouraged by the price received for untended trees. Some quick calculations revealed that we had approximately 40 hectares of steep, relatively unproductive grazing land that was returning us about $25 per hectare after fertiliser and never-ending gorse control. The decision to convert this land to trees was simple – shift a few fences and remove others, then spend next year's fertiliser and gorse spray budget on trees. We planted 40 hectares over the next three years, 90% radiata and 10% lusitanica.
Concentrating resources
Our objective from the start was to plant any area that we could not spread fertiliser, and concentrate our resources on intensifying the rest of the property under a mainly store cattle regime. In 1994 we purchased a neighbouring property which had not seen fertiliser in over 10 years, and began developing that to give us a further 30 hectares of grass. We applied the same philosophy there and planted steep slopes and gullies. By this time the emphasis had changed to only half radiata, with other species including eucalypts, lusitanica, Japanese cedar, redwoods and lots of ornamentals.
Joint venture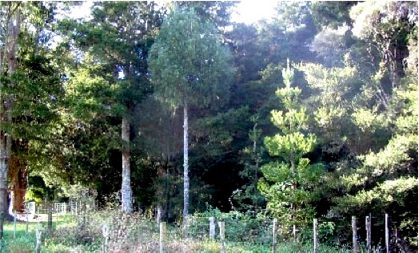 Tree planting is addictive but it is also the easiest part of establishing trees. It is very easy to lose sight of the workload coming up, for example not budgeting for the cost of someone doing the pruning. We were in part guilty of this, and in 1994 we took on a joint venture partner for that first 40 hectares. Local businessman, Brian Archibald, had always been interested in our tree planting venture, and was looking for a tax break, so he came in with us to finance all pruning and thinning in return for a percentage of the harvest. We now have approximately 60 hectares in plantation, and Doug manages to keep silviculture up-to-date on the 20 hectares not included in joint venture.
Around $2,000 per annum is budgeted for trees, and while that bought 10,000 radiata seedlings in the 1990s, it has been increasingly spent on fewer numbers of higher value ones. Now we spend 75% on natives, mainly kauri and kahikatea. Totara grows like a weed and forms a large part of the native bush areas on the property, so there is no real incentive to plant, but time to prune would be well spent.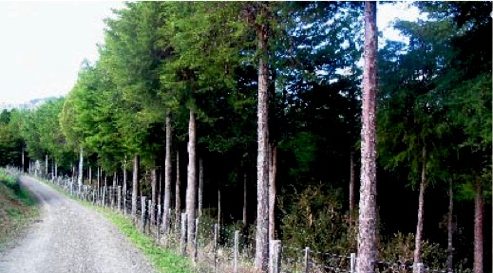 Pleasure financially and visually
Although canker is a major disincentive to grow macrocarpa, we saved seed from old trees on the property and planted seedlings 13 years ago which look quite promising with canker in about 15%. With this knowledge we have planted 200 a year for the last two years on well ventilated sites to see if we can produce something millable.
We expect to see a return from radiata after 30 to 35 years and cypresses at 40 to 45 years. The other trees will give someone a lot of pleasure financially or visually for some time into the future.
Three areas of regenerating native bush have been covenanted with QE II National Trust totalling approximately 70 hectares. One of these blocks of 50 hectares has since been sold but continues to protect the catchment of one of the two streams running through the property. Fencing of waterways has become a priority, and for the first time this year we applied for an environmental grant from the Northland Regional Council to help with this.
Creation of an enjoyable environment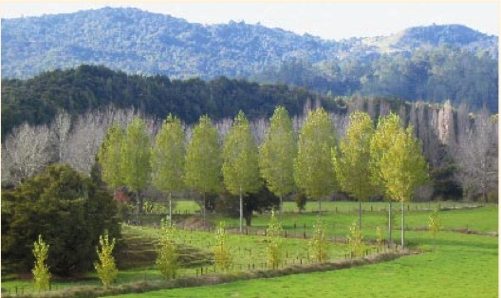 Like most business ventures there is a degree of risk, so we have spread that by planting many different varieties, 17 in all. Apart from radiata and cypress a financial return is not the main driving force behind our planting, although everything is managed with milling in mind. The creation of an enjoyable work environment and a landscape that gives pleasure and inspiration to others is of paramount importance. We have attempted to establish a surprise around every corner – a bit like a farm park.
We joined the Far North branch in 1991 when we started planting.
Doug spent several years on the committee – an association that has been the greatest supplier of information and inspiration for us to achieve a balance of aesthetic and commercial woodlots. The best thing about farm foresters is that they own a wealth of information that most are only too willing to share. You only have to ask a leading question.
(top)