---
Advertisement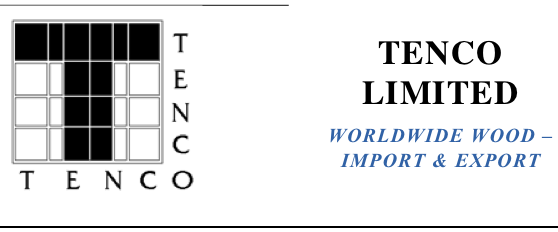 About Tenco
Tenco is one of New Zealand's largest exporters of forest products. We have built to this position since 1991 when the company was set up to export lumber to growing Asian export markets. Experience and reputation count; from small beginnings Tenco has become the largest independent exporter of New Zealand lumber and New Zealand's 4th largest log exporter. Tenco has a regular shipping program of their own log vessels and in combination with these and other ships currently calls at 7 New Zealand ports (5 North Island and 2 South Island).
Tenco buys standing forests. Tenco currently has a number of forests which they purchased at harvestable age to log over a number of years for export and domestic markets. Tenco also regularly buys smaller tracts of forest to harvest immediately or immature forests to hold until harvest time. Tenco is interested in broadening the base of owners from whom it purchases forests and stands of trees. A deal with Tenco is a certain transaction. The owner and Tenco will agree on a value of the tree crop and then Tenco will pay this amount to the owner either in a lump sum amount or on rate per volume unit out-turn from the forest depending on the nature of the tree crop.
Tenco knows there are a lot of farmers who have trees that are close or ready to harvest and will be asking themselves how they should proceed with the sale of their trees. For some farmers the kind of certain transaction with money in the bank could well be appealing. Tenco is actively interested in buying harvestable forests or trees from areas including all the North Island (except the Gisborne and East Coast districts) and Nelson & Marlborough in the South Island .
If you own a forest in this area (16 years and older) and are ready to enter into this kind of agreement Tenco is interested to develop something with you.
Please contact: Josh.Bannan@tenco.co.nz
Work: +64 7 357 5356 Mobile: +64 21 921 595
www.tenco.co.nz
NZFFA Member Blogs
Any member of NZFFA can set up their own blog here, just ask Head Office to set one up for you and join the ranks of our more outspoken members...
You can either publish your blogs yourself, or email a document to head office for publishing.
---
---
Recent blogs:
Denis Hocking's blog
Sunday, December 21, 2014
On his return from the Climate Change Conference in Lima, earlier this month, Climate Change Minister, Hon. Tim Groser claimed that New Zealand was in a difficult position because it had "no low hanging fruit" for reducing greenhouse gas emissions (interview on Morning Report). Many would disagree with this claim, certainly regarding net emissions. And many of these dissenters will be foresters.
It is generally acknowledged that New Zealand needs more forest and woody vegetative cover to offset another of our serious environmental problems, namely soil erosion. This is seen in programmes such as the East Coast Forestry Programme, the Horizons SLUI project and the Government's Hill Country Erosion Fund. LandCare Research has estimated that there is close to one million hectares of hill country that still needs forest or some form of tree or shrub cover to mitigate accelerated soil erosion which is stripping topsoil (more than 30 million tonnes per year) and clogging many of our rivers. But tree planting on this highly erodible country also offers the chance for major carbon sequestration, and thus reduced net emissions, from this land. A million hectares of average productivity radiata pine could offset at least 90% of total agricultural emissions for 30-40 years. I would dread the thought of all this land being planted in radiata pine but a combination of pine, other production species, native regeneration, spaced plantings of poplars, etc. could still offer major carbon sequestration while tackling this other problem of accelerated soil erosion.
In theory the Emissions Trading Scheme should be able to achieve these ends, but the present Government has gutted the ETS and destroyed any confidence that it can be relied on to assist forestry. New forest plantings have dropped to their lowest levels in 50 years since the introduction of the ETS in 2008 and net planted, forest area has reduced by 3% since 2003. The ETS seems to have had the opposite effect to what was intended. We need other mechanisms.
Carbon sinks are, of course, only temporary measures and will eventually fill. However by using the wood from forests for structural use through to energy, the country could permanently reduce its carbon footprint. There are a number of exciting, new wood technologies that are allowing construction of innovative, multi-story, wooden buildings, though depressingly few of these are in New Zealand.
There will also be people who would question the commercial wisdom of turning more sheep and cattle pastoral land into forest. But the statistics show that average, commercial forestry generates twice the export earnings per hectare of average sheep and beef land. Over the period 2008-12 forestry generated, on average $2,144 of export earnings per hectare (fob value of forest products) compared to approx. $1100 per hectare of export earnings from sheep and beef (fob value of all meat products plus wool though woollen products can be difficult to identify). Dairy was comfortably ahead at over $5,000/ha.
At the on-farm level commercial decision making tends to be distorted by our excessively high land prices, which ensure average returns of less than 3% for sheep and beef farming. This ensures short term thinking and a need to generate quick cash, rather than the longer term profitability of forestry. In addition, access problems and costs of logging can undermine returns on some sites, especially for small blocks.
Still, a recent study of 84 woodlot sales showed average returns of over $20,000 per hectare representing around $700-1,000 per hectare per year. Compared to average gross margins of around $100 per stock unit for sheep and beef, and assuming the owners, quite rationally, put the trees on their poorer land with perhaps 5 stock units per ha. carrying capacity, this represents a good return. For quite a few of us, forestry on our poorer land is generally more profitable than livestock on our better land.
So contrary to Mr Groser's claims, I see a lot of "low hanging fruit" in our climate change response. And what's more it's low hanging fruit that offers a win, win, win option. I would regard it as too good to turn down.
---
Dean Satchell's blog
Wednesday, November 12, 2014
Scion are currently preparing an Diverse Species bid to MB on behalf of the forest industry. This is a partnership between Future Forests Research, University of Canterbury and Scion, and is being funded by growers through our growers commodity levy. Following are my views on the research priorities as I see them:
There appears to be no information available around preservative penetration in PLANTATION E. regnans. I'm referring to ACQ pressure treatment (Copper, but with no chrome ot arsenic) which might make a fine decking product out of regnans. E. regnans is the "best" species for accepting treatment according to the literature I've reviewed and I'd suggest our plantation material is most suitable for available treatment processes, being very different to the native mountain ash in Australia (Plantation regnans has a large earlywood band, is soft and low density).
Obviously acetylation and other modification technologies are well worth pursuing for regnans/nitens/fastigata but ACQ is cheap and readily available technology that could be applied immediately, if penetration were demonstrated to be adequate (i.e. to h3.2). This isn't a big research job. In fact I've got some ACQ treated regnans waiting to be tested under accelerated decay conditions.
I can report that my thermally modified E. regnans deck is very attractive after one year in service. Checking is minimal, which gives it a considerably more attractive appearance to higher density naturally durable eucalyptus in outdoor applications. Generally higher density equates to more surface checking as outdoor decking or cladding. Improving the durability of low-density eucalypts holds much promise for quality products and markets for growers. However, a thermally modified low density eucalypt decking product requires both demonstration of 15 years durability performance and adequate strength through that period. Cladding might only require assessment of durability performance.
An economic assessment is required that provides a thorough analysis of the tradeoff between slower growing durable eucalypts (stringybarks) and faster growing non-durable eucalypts (fastigata, regnans) that will require treatment for outdoor applications or hardening for appearance applications, which each incur additional costs. Growers really do need some basic figures on the consequences of lower wood qualkity that faster growth provides, and how product costs and values should influence planting decisions.
Data is available on average graded sawn timber lengths from unpruned cold-climate eucalypt species. However, costs of finger-jointing (specifically edge jointing) and log to product costs and values of finger-jointed material are required before producers would consider innovative eucalypt cladding and decking products from unpruned trees and headlogs. NZ Sustainable Forest Products have forged the path ahead with their work on edge-jointed red beech cladding and decking products, the rest of the industry needs to take heed. Growers won't plant trees unless they see markets for the timber.
No strength data is available for plantation cold-climate species (E. regnans, E. fastigata, E. nitens) in New Zealand. This precludes their use in structural applications. We all know the stuff is much stronger than radiata, yet there is no market because there is no data. This is key fundamental research to their uptake in New Zealand - Characteristic stresses need to be determined for these eucalypt species. Reference samples need to be tested in accordance with AS/NZS 4063.1:2010. Only once this is done can important structural markets for eucalypt be developed in New Zealand.
Because short-clear lengths are available from the unpruned cold-climate eucalypt resource, structural finger-jointing is necessary to upgrade into value-added structural product. The integrity of structural finger-joints needs to be tested for these species and the economics of producing a structural finger-jointed product needs to be explored to open up markets for high-value appearance structural products such as glulam.
A case needs to be made that untreated E. regnans heartwood meets the durability performance requirements of the building code for internal structural applications. Although H1.2 boron treatment can be used on any species, this is not necessary if heartwood were demonstrated as equivalent durability with Douglas fir heartwood. There are markets for strong untreated framing timber durable enough for applications where there is a risk of moisture penetration and entrapment. Time for some fundamental research.
Other important potential applications for cold-climate eucalypt species include posts and poles. I'm sure growers would be very happy if they could production thin for posts and poles from age 10. We already know that eucalypt is much stiffer and stronger than radiata pine so the challenge is making it fit for purpose. There are actually two challenges:
durability, and
stresses (splitting).
We know that young fast-grown cold-climate eucalypt contains high levels of growth stress. There is no point in exploring treatment or modification options to increase durability if the posts are going to split themselves apart (as they do). What we didn't know previously is that stresses can be easily relieved by boring the core out. This new technology is currently being applied in New Zealand for radiata pine poles and piles and could likely be adapted for processing eucalypt thinnings to both relieve stresses and also improve treatment uptake. All that without compromising the strength of the post/pole product! Maybe I'm dreaming, but until the fundamental research is undertaken, we won't know. The costs need to be weighed against the product value in an economic analysis - we are at a crossroads where growers need to know whether cold-climate non-durable eucalypts hold promise for applications such as posts and poles. If not then growers could focus on durable heart eucalypt.
I hope the forest growers levy funded research programme considers these issues, because if we are to create a solid plantation forest industry we need to start thinking about diverse products and begin creating markets for these.
---
---
Disclaimer: Personal views expressed in this blog are those of the writers and do not necessarily represent those of the NZ Farm Forestry Association.