---
Advertisement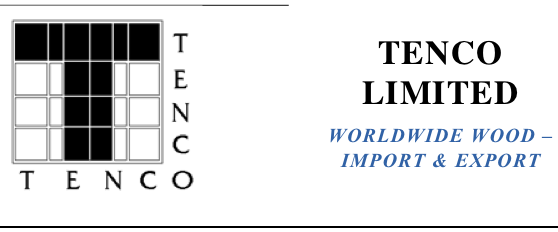 About Tenco
Tenco is one of New Zealand's largest exporters of forest products. We have built to this position since 1991 when the company was set up to export lumber to growing Asian export markets. Experience and reputation count; from small beginnings Tenco has become the largest independent exporter of New Zealand lumber and New Zealand's 4th largest log exporter. Tenco has a regular shipping program of their own log vessels and in combination with these and other ships currently calls at 7 New Zealand ports (5 North Island and 2 South Island).
Tenco buys standing forests. Tenco currently has a number of forests which they purchased at harvestable age to log over a number of years for export and domestic markets. Tenco also regularly buys smaller tracts of forest to harvest immediately or immature forests to hold until harvest time. Tenco is interested in broadening the base of owners from whom it purchases forests and stands of trees. A deal with Tenco is a certain transaction. The owner and Tenco will agree on a value of the tree crop and then Tenco will pay this amount to the owner either in a lump sum amount or on rate per volume unit out-turn from the forest depending on the nature of the tree crop.
Tenco knows there are a lot of farmers who have trees that are close or ready to harvest and will be asking themselves how they should proceed with the sale of their trees. For some farmers the kind of certain transaction with money in the bank could well be appealing. Tenco is actively interested in buying harvestable forests or trees from areas including all the North Island (except the Gisborne and East Coast districts) and Nelson & Marlborough in the South Island .
If you own a forest in this area (16 years and older) and are ready to enter into this kind of agreement Tenco is interested to develop something with you.
Please contact: Josh.Bannan@tenco.co.nz
Work: +64 7 357 5356 Mobile: +64 21 921 595
www.tenco.co.nz
NZFFA Member Blogs
Any member of NZFFA can set up their own blog here, just ask Head Office to set one up for you and join the ranks of our more outspoken members...
You can either publish your blogs yourself, or email a document to head office for publishing.
---
---
Recent blogs:
Hamish Levack's Blog
Thursday, November 10, 2016
Stuart Nash, Labour spokesperson on Forestry, met with the NZFFA executive on 8 November and shared his ideas about forest policy. See Forestry - Imagine by Stuart Nash, Labour spokesperson for forestry
My views on this policy follow:
A $1/m3 Government levy on export logs would certainly be much more palatable than $5/m3 (as Stuart suggested previously).
I mentioned that such a levy would probably be acceptable if it was introduced at the same time that Government began paying something, [perhaps an equivalent amount] in recognition for the ecosystem services that forest owners provide the community with.
My paper that was published in the November 2015 'Tree Grower' refers to the impressive strides Scion has made recently in the quantification of the ecosystem benefits of plantation forestry. The table below, which is extracted from the paper, is from a 2014 report on eco-system services in the Bay of Plenty's Ohiwa Catchment. It demonstrates a large positive ecosystem service value from exotic forestry of $5,609 a hectare each year.
Table 2: Indicative values in dollars per hectare each year of key ecosystem services in the Ohiwa catchment
| | |
| --- | --- |
| | Dollars per hectare |
| Carbon sequestration/emission and greenhouse gas regulation using $4 per New Zealand Unit. [Note however that as at November 2016 an NZU is worth $18.50] | $48 |
| Avoided erosion and flood/disturbance regulation | $121 |
| Regulating nutrient supply by avoiding leaching | $2800 |
| Pollination | $206 |
| Water regulation | $6 |
| Waste treatment | $244 |
| Pest and disease regulation/biological control | $11 |
| Water supply | $8 |
| Recreation | $900 |
| Species conservation | $257 |
| Nutrient cycling | $994 |
| Soil formation | $14 |
| Net ecosystem services value in dollars per hectare each year | $5609 |
Stuart's proposals that Government (a) Includes forestry cutting rights for stands of forest over 500 hectares in the Overseas ?Investment Act, and (b) Implements a $1/m3 export levy on all logs exported without value added, will not go down well with many of the estimated 100,000 people who have significant investments in private forests. The proposals would discourage investment in replanting and new planting if potential forest investors feel that a precedent has been set whereby the Government 'arbitrarily' extracts money off them. There is already a strong resentment in the forestry sector about the Government's uneven treatment of different land uses. Government, via the ETS, has already devalued pre 1990 forest land but agonises about capping the value of pastoral land by the imposition of a stock exclusion rule for water quality. Without pricing GHG emissions from Agriculture (principally dairy), the government is paving the way for a huge ongoing subsidy from the taxpayer and industry to NZ's dairy farmers. The pull-through effect of demand for land from the dairy sector has put sheep and beef farm land suitable for forestry ( having an average value of $5,700/ha according to one analyst) out of reach for afforestation, noting that land under a pre-1990 forest has an average value of $2000/ha including the depreciated costs of improvements (roads, culverts, and landings).
It would also be counterproductive to make it difficult to attract foreign investment in forests. Among other things this would discourage forest aggregation and scale economies. [Note for example, UFG which is a company that uses Chinese capital to aggregate cutting rights is more than happy for the New Zealand sellers to exchange their cutting rights for shares in UFG]. Note also that most of New Zealand forest assets are already foreign-owned because, in general, there was, and still is, insufficient capital in NZ to buy them. Some profit may go overseas eventually, but typically more than 90% of that foreign capital investment ends up in NZ pockets, via wages, land purchases, taxes etc. Liquidity is needed if we want more investment in forestry and afforestation, and obstructing overseas buyers does not help.
Now onto other matters. You have omitted to include many excellent forest policies that the Labour Party laid out in its 2014 pre-election paper "Economic Upgrade for Forestry and Wood Products" It would be good if these 'promises' were carried forward as a pre- 2017 election manifesto. 'Carrots' rather than 'sticks' would be much more attractive to forest growers.
In summary this pre-election paper said that if Labour formed a Government it wanted:
To encourage investment in wood processing to move the focus from logs to higher-value products by:
a) Implementing a 'tax deferral' for investment in plant and equipment in the forest and wood products industry, by means of an accelerated depreciation provision.
b) Reintroducing an R&D tax credit to encourage stronger private investment in high-quality R&D.
c) Ensuring that public science works to further develop wood-plastic composites.
d) Working with the industry and BRANZ to develop building standards for wood construction to accommodate advanced wood construction technologies.
e) Developing a stronger domestic market for wood products
f) Adopting a Pro Wood government procurement strategy for government-funded project proposals for new buildings up to four stories high.
To increase net stocked forest area by:
a) Stabilizing the price of carbon in New Zealand
b) Making suspensory loans available (repayable on harvest) to cover the costs for planting new forests, with the option of joint planting ventures with iwi.
c) Introducing a legacy forests status to protect and renew our indigenous forests
To establish Forestry Taskforces for the long-term unemployed by:
a) Supporting iwi forestry clusters to analyze options for their land.
b) Providing business stability for the forest and wood products industry
c) Completing the National Environmental Standard for Plantation Forestry.
d) Formalizing the government's approach to the forestry sector in a 'New Zealand Forestry Policy' document.
To ensure the sector is underpinned by suitable infrastructure and a skilled and safe workforce by
a) Supporting universities, polytechnics and wãnanga, and the forestry ITO to further contribute to the industries and communities they serve.
b) Introducing new regulations to protect forestry workers, support the Independent Forestry Safety Review, and introduce a corporate manslaughter law.
c) Finishing relevant roading development in forestry regions in order to make it easier to get wood from forest to plant.
All good stuff.
Hamish Levack 9/11/16.
---
Wink Sutton's Blog
Thursday, October 06, 2016
Some environmentalists have criticised plantations because they are almost always monocultures. Monocultures are claimed to be unnatural. Are they? Is there evidence that monocultures do not occur in nature.
This question was discussed at length in the excellent publication by Piers Maclaren in Environmental Effects of Planted Forest 1996 – FRI Bulletin 198. There are many examples throughout the world of naturally occurring monocultures. Our own beech forests, for example, tend to be natural occurring monocultures.
It is relevant to recall the work of Jones in the mid-1940s. E W Jones, a lecturer in silviculture at the Oxford School of Forestry in the 1950s and 1960s, was a passionate supporter of selection system of forest management – a mixture of species and age classes as practised in Switzerland and France. In some ways this management system is the equivalent to our current continuous cover forestry.
In both management systems there is no clear felling. In the 1940s Jones evaluated the few European forests that had not been 'devastated or changed by man'. Because there were so few examples of untouched European forests, Jones extended his study to include North America. In the northern, central and southern USA there were few virgin forests left but there were still large areas left in the west. Jones, much to his surprise, observed that '...all aged forests with irregular canopy answering to the forester's picture of selection forest type appear to be rare'.
Jones records that most of the 'virgin' forests were even-aged monocultures or near monocultures. Jones reasoned that the prime cause of the resultant forest structure was fire caused by lightning strikes. My interpretation of these observations by Jones is that virgin forests ultimately end in catastrophe, such as by fire, insect outbreak, hurricanes or volcanic eruptions. Jones concluded that the concept of climax vegetation is '... a concept only, never existing in practice...'.
Although Jones was my lecturer in silviculture at Oxford I do not recall him including these research findings in his lectures. It was much later that I became aware of his earlier publication. Jones's findings are probably applicable to temperate and boreal forests and not tropical forests.
Using resources better
The Piers Maclaren bulletin evaluates the question – Are monocultures at greater risk from catastrophic epidemics than mixed species plantings? Piers cites many examples, both in New Zealand and overseas, that 'stands of mixed species do not necessarily provide protection to individual species within those mixtures'. He also makes two very appropriate comments –
...researchers can concentrate scarce resources on addressing fewer species of pathogens
... any major threat to the radiata pine industry would be counted by the full resources of the forest sector. If New Zealand's commercial forest estate was fragmented into many species, the response to a pest or disease to one type of tree would be less than total and therefore be less effective.
Another reason why a single species plantation might be healthier than mixtures is the likelihood that the stands managed for maximum productivity would impose minimum stress on the individual, therefore ensuring that natural immunity is high. The ability of individual trees to resist disease is promoted by some management practices, for example, site preparation, fertilisation, thinning and pruning.
Redwood domination
Plantation mixtures of many tree species were trialled in the initial plantings by the Forestry Division of the Lands Department – the forerunner of the Forest Service.Almost all mixtures were complete failures – one species came to dominate the plantation.The best example of one species eventually dominating is the redwood stand at Whakarewarewa, perhaps the most photographed forest stand in New Zealand.
The stand was originally planted in larch at four feet by four feet.Then, every fourth larch tree in every fourth row was replaced with a redwood. Soon after planting the larch probably grew faster than the redwoods only to be overtaken. Now almost none of the initial larch plantings remain.This also explains why the redwoods that still exists are at a minimum of 16-foot spacing, about five metres.
Monocultures are natural forests. Mixtures rarely stay as mixtures as one species soon comes to dominate. Monocultures are at no greater risk than mixtures. Indeed, they may be at less risk.
---
---
Disclaimer: Personal views expressed in this blog are those of the writers and do not necessarily represent those of the NZ Farm Forestry Association.